Liberal Blogosphere Scorecard: One for Two
One victory, one defeat. Conservative pundits referred to the
Downing Street Memo
swarms perpetrated by the Big Brass Alliance (
BBA
) as a test of the liberal blogosphere. It is clear that we passed the test. Blogpulse currently
lists
6780 posts matching "Downing Street Memo". Admittedly, much of this was promoted by one person,
John
Conyers
, but the blogosphere activity clearly helped him.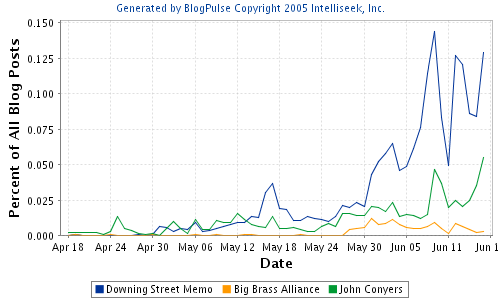 However, the other big challenge we took on has not worked out so well:
Tom Cruise Proposes to Katie Holmes

By SOPHIE NICHOLSON Associated Press Writer


PARIS Jun 17, 2005 — Actor Tom Cruise said he and girlfriend Katie Holmes are engaged, after he popped the question early Friday morning atop the Eiffel Tower.

Cruise, speaking at a Paris news conference with Holmes, said: "Yes, I proposed to her."

The couple often shared smiles and blushes as Cruise turned to look at her, with a massive diamond ring on her finger.