What To Do About Texas?
Vicente Fox and Tom "The Molotov" DeLay
Vicente Fox came to power in Mexico, based upon his pledge to rid the Mexican government of corruption. He's even made some progress:
Battles won, a war still lost
Feb 10th 2005 | BOGOTA, LIMA AND MEXICO CITY
From The Economist print edition
[...]The government of President Vicente Fox has made much bigger efforts than its predecessors to tackle these syndicates, clean up the security forces and collaborate with American drug fighters. Several notorious drug barons, such as Benjamín Arellano Félix, have been jailed.[...]
Of course, anyone who tries to change a deeply-ingrained pattern of corruption faces some major challenges:
Mexico elections face party turnover
Feb. 4, 2005
Chronicle Foreign Service

[...] Four years into Fox's administration, high levels of crime, corruption and unemployment continue to plague Mexico. The opposition-dominated Congress has blocked or rewritten most of Fox's major bills.
Apparently
, Fox cannot run for reelection. It will be interesting to see if he can make any substantial progress in the fight against corruption. If so, perhaps Texas could hire him to do the same thing, North of the border.
After all, Texas doesn't seem to have much in the way of home-grown talent. As found on The Carpetbagger Report, and amplified in an article in the LA Times, the Texas House is considering a bill -- HB 913 -- that would hamstring efforts to prosecute crooked political campaigners.
Texas GOP Trying to Gut Ethics Inquiry, Critics Say
A bill introduced in the Legislature is called a blatant bid to protect Republicans, including Rep. Tom DeLay, from a fundraising probe.
By Scott Gold, Times Staff Writer
February 11, 2005

[...] A bill filed this week by a veteran state GOP lawmaker would give the Texas Ethics Commission — whose members were appointed by the three top elected officials in the state, all Republicans — the power to quash the prosecution of a politician.

Critics call it a brazen attempt to protect GOP leaders who might become entangled in an ongoing criminal investigation into whether illegal fundraising paved the party's rise to power in the state.

Texans for Public Justice, an organization that tries to combat the influence of money in politics, labeled the measure the "Politician Protection Act." Director Craig McDonald said the bill created a "special criminal justice process for politicians." [...]
This is discussed also by bloggers at
Off the Kuff, Ruminate This, Solo Dialog, Fantasy Life
,
The Island of Balta
,
The Scooter
,
Easter Lemming
, and
StoutDemBlog
. On
Easter Lemming
, Mr. Denton states, on the topic of cleaning up Texas politics: "It's going to take a lot of shovels."
Vicente Fox
Portrait
---------------------------------------------------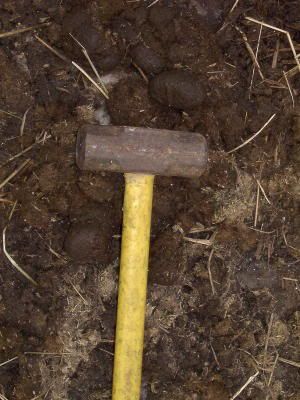 Tom DeLay
Official Portrait